Sale!
A Spin for Ocean Lovers with Benefits Beyond the Sea
For the ocean lovers and curious minds, discover Wooden Tortuga, your tactile portal to the deep blue. Meticulously handcrafted from sustainable wood, it's not just a nod to our planet's beauty, but a commitment to its future. But the magic doesn't stop at its aesthetics; every spin enhances fine motor skills and boosts hand-eye coordination. The toy's intricate design and smooth motion offer both a visual delight and a therapeutic touch experience. Beyond the fun, it's a tool for growth, honing concentration and fostering cognitive development. With Wooden Tortuga, you're not only introducing a world of oceanic wonder but also equipping your little one with skills that ripple into every aspect of life. Dive into a whirl of benefits!
Regular Price:
Christmas Sale:
Worry-free shopping :)
Satisfaction Guaranteed
No Hassle Refunds
Secure Payments
Description
Meet our handcrafted piece of art – The Wooden Tortuga

For every child (and child-at-heart) who's ever been captivated by the vastness of the ocean, the Wooden Tortuga brings a splash of that magic right to their fingertips. Shaped and inspired by the serene and timeless sea turtle, this wooden spinner is an amalgamation of artistry and utility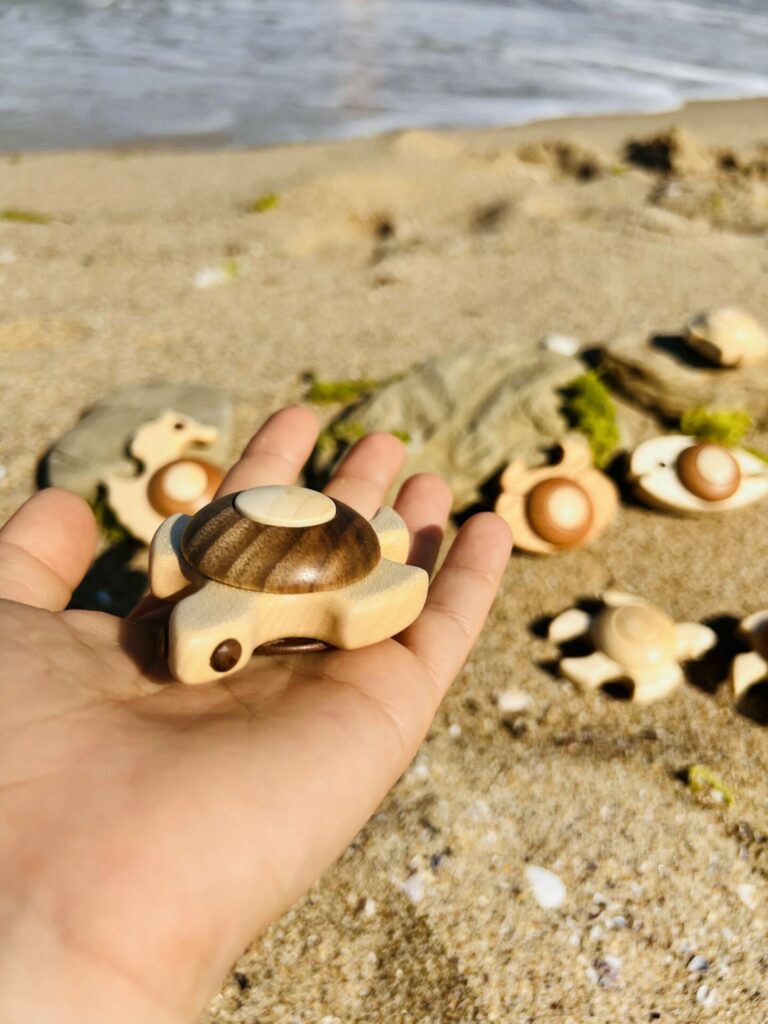 Sustainable in Spirit:
Crafted from sustainable wood, every Wooden Tortuga is a testament to our commitment to the planet. We believe that the toys of today shouldn't compromise the world of tomorrow. With every purchase, you're not just acquiring a plaything, but making an eco-friendly choice that celebrates nature.
Skill Development:
Beyond its eye-catching appeal, the Wooden Tortuga serves as a tool for cognitive and motor skill enhancement. The action of spinning requires precision, aiding in the development of fine motor skills. The coordination between hands and eyes is sharpened with each turn, fostering hand-eye coordination.
A Therapeutic Experience:
The tactile sensation of wood spinning between fingers offers a calming effect. It's not just a play activity; it's a therapeutic ritual, making it ideal for moments when relaxation and mindfulness are needed.
Engaging & Educational:
The design of the Wooden Tortuga invites curiosity. It sparks questions about marine life, conservation, and the importance of sustainable choices. It's not just a toy; it's an educational conversation starter.
A Timeless Keepsake:
While toys come and go, some become cherished memories. The Wooden Tortuga is designed to be one of those lasting treasures. Its durability ensures it stands the test of time, and its charm ensures it's treasured across generations.
Whether you're on a quest for a gift that's both distinctive and meaningful or yearn to introduce your little one to an oceanic friend that spins tales of wonder, Wooden Tortuga is your beacon. Explore the vast fleet of delightful wooden companions from Otbor Toys, like WooDucky, Roro, Bobo, Titi, Toto, and Biba. Cast anchor with an Otbor Toy, and it won't just dock at your shores — it'll become an enduring part of your family's voyage, leaving behind a trail of cherished memories and igniting waves of creativity and imagination for many tides to come.
Additional information
| | |
| --- | --- |
| Weight | 25-30 g |
| Dimensions | 8 × 6 × 3 cm |
| Wood | Cherry, Maple, Walnut |